Register Now!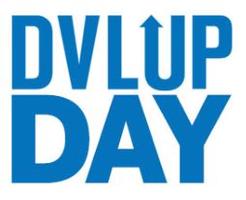 https://www.eventbrite.com/event/8993791673
Join Nokia Developer Ambassador Jan Hannemann and his special guests, fellow Nokia Ambassadors Atley Hunter, Nick Landry, Technical Evangelist Thomas Lewis and Unity expert Jodan Karlik for DVLUP Day at the BCIT campus in downtown Vancouver. The focus of this event is to create
Windows Phone apps that qualify for challenges on http://DVLUP.com and receive help in getting it done from some of the top Windows Phone experts. Think of it as a hackathon where everyone wins.
As an attendee you get the following:
A Windows Phone 8. Every attendee who updates or publishes an app within 2 weeks of the event will get a new Nokia Lumia 620 Windows Phone 8 device
A heavy-duty swag backpack. The swag bag is chock full of goodies, even the backpack itself is worth $89 (it's a Wenger, Swiss Gear TSA friendly laptop bag).
A Nokia Developer Offers token. This contains the following:

Microsoft Windows Phone DevCenter account (this is your portal to publish apps to the Windows Phone Store and also unlocks physical devices for building apps)
Telerik RadControls for Windows Phone license
Infragistics NetAdvantage for Windows Phone
BugSense Performance Monitoring solution for Windows Phone (3 months)

20,000 ad impressions from AdDuplex. In addition, when your app is published you will be entered for

1st place- 1,000,000 ad impressions
2nd place- 500,000 ad impressions
3rd place- 250,000 ad impressions
Program
Nokia Developer Programs and AppStudio
Learn about DVLUP and other Nokia Developer Programs. We will give you all the tools and resources you need to get started with Windows Phone development. You will also learn about AppStudio from Microsoft. It enables you to create your first app without writing one line of code. Even for seasoned developer it is great tool to create quick prototypes or experiment with ideas.
Introduction to Windows Phone Development
Learn all the basics about Windows Phone development. XAML, controls, launchers, choosers, etc. All that makes Windows Phone a unique platform and fun to program. If you already know how to code and/or have published apps for other platforms then this will give you a kick-start into Windows Phone development. Once you have started you can't stop anymore.
Succeed in the Windows Phone Store
Improving your apps to succeed in the market is an essential part of the life of any developer on any platform. Learn about the ingredients that are needed for any successful app. Strategies on marketing and monetization that gives you more revenue than just the next cup of coffee. We are happy to share all our little secrets.
Game Development with HTML5/JS
Details to be announced. But if you are a HTML/JS developer and love games then this will give you huge boost to the finish line.
Unity ports
Unity is available free of charge for Windows Phone 8. This is the perfect opportunity to port your game over to the fastest growing mobile platform. We will have experts and devices on site to help you getting your game running.
Agenda
08:00am – 09:00am Registration/Breakfast
09:00am – 09:15am Introduction to Nokia Developer Programs (Jan Hannemann)
09:15am – 09:45am Your first app without coding (Jan Hannemann)
09:45am – 10:00am Coffee Break
10:00am – 10:50am Getting started with Windows Phone Development (Nick Landry)
11:00am – 12:00pm Succeeding in the Windows Phone Market (Atley Hunter)
12:00pm – 01:00pm Lunch Break
01:10pm – 02:00pm HTML5/JS Game Development (Thomas Lewis)
02:10pm – 03:00pm Porting Unity Games to Windows Phone (Jodan Karlik)
03:00pm – Coding starts
06:00pm – 7:00pm Dinner
09:30pm – Coding ends
Developer Environment
Windows 8 Pro with Hardware Virtualization (Preferred)
To write native Windows Phone 8 apps, you will need to be using Windows 8 Pro and a PC that supports hardware virtualization. The free Windows Phone 8 SDK can be downloaded here.  https://dev.windowsphone.com/en-us/downloadsdk
Windows 7/8 without Hardware Virtualization
Windows Phone 7 apps are welcome as well and the requirements for the development environment are easier to fulfill. The free SDK can be downloaded here  https://dev.windowsphone.com/en-us/downloadsdk Don't forget to install all the updates up to WP 7.8.
Developers with a MacBook
If you are a developer with a MAC, we will have a limited number MAC DEV KIT's available from Microsoft. This contains a copy of Parallels and a copy of Windows 8 Pro. We will help you setup your mac so that you can develop Windows Phone apps.
Just a browser
For developing AppStudio apps all you need is a browser. However, to actually test your app you need a Windows Phone 8 device. But We can help with that. Give it a try http://apps.windowsstore.com/
A last important note
You can start coding now! This is not the usual hackathon. First, the actual coding time at the event is very short but you will have 2 weeks after the event to get your app in to the store. However, I recommend to make good use of the experts at the event and get your app as far as possible. The certification time in the WP store is currently 5-7 days. That gives you 2 tries max in case your app gets rejected. Don't submit your app before the event either. In order to eligible, you need to attend the event and the publish/update date of your app needs be between December 7th and December 21st. Your apps have to pass one of the two DVLUP challenges below. Also games have to be submitted to this challenges and not to the games challenges.
Give One Of Your Apps An Update, Any Update…
If you have questions about your environment, please email nokiaguy@outlook.com
Special thanks to BCIT for hosting DVLUP Day!